What do we talk about every day? The weather! Unsurprisingly, powerful weather phenomena is a great theme for exciting slot games, and the Wild Weather slot is no exception.
The Wild Weather slot comes with two different expanding wilds and a fun-filled free spin round that is certain to brighten even a cloudy day.
The graphics have a minimalistic touch, and silhouettes are commonly employed to represent weather conditions.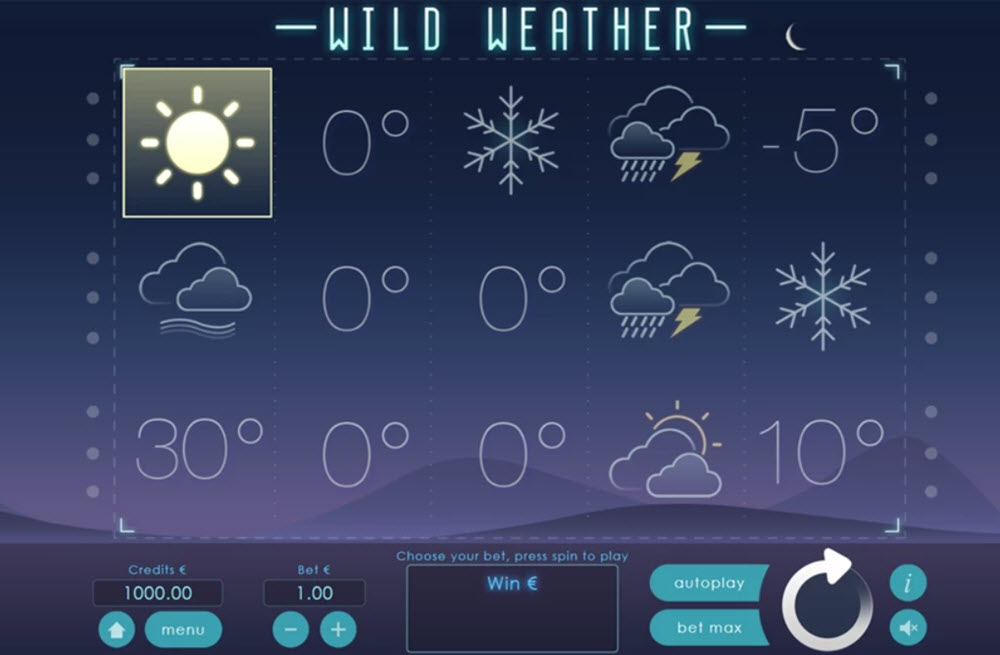 Who created this game?
This game was created by the game developer Tom Horn Gaming. Tom Horngaming is a small developer and it can be hard to find a good casino that features Tom Horn gaming games.    Examples of good casinos that feature games from this developer include NetBet and Goliath Casino. Click the link to find the latest promotions from these and other good casinos.
Can I play on my mobile?
Yes, Wild Weather is available for desktop computers, smartphones, and tablets.
Basic information
This is a 5 reel slot where each reel displays three symbols, giving us a 5 x 3 symbol grid.
Number of paylines: 18
Number of weather-related symbols: 12
This game uses the popular win-both-ways set up.
The smallest wager is 0.10 credits.
The largest wager is 100 credits.
Two expanding wilds
Wild Weather comes with not just one but two expanding wilds, and they can expand in different directions.
Tornado wild (expands vertically)
In the base game, only one kind of expanding wilds is available, and that is the Tornado Wild. When it forces its way onto the reels, it picks up other symbols and turn them into wilds. In this fashion, it can expand both above and below its original location.
Sun wild (expands into 2 x 2)
The Sun Wild can only help you during the free spins round. During free spins, she is a very powerful wild symbol that expands to fill a square block of 2 x 2 spots on the reels. It is always very exciting to watch this feature, hoping for the sun to expand into the right spots to complete high-paying win combos.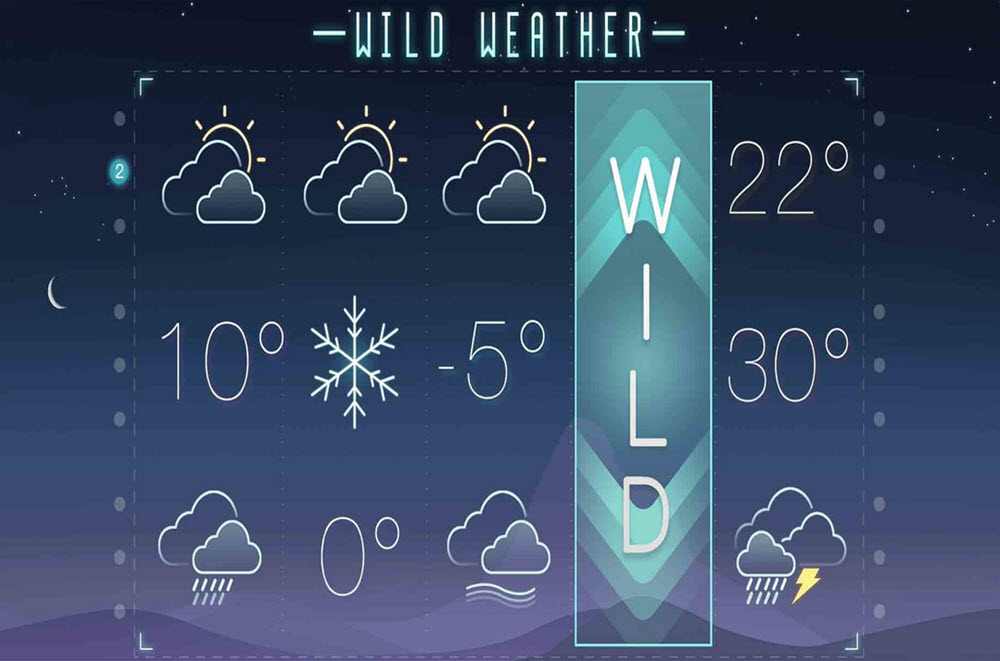 The sun scatter
The sun is a scatter symbol in Wild Weather.
If you get three sun symbols in the base game, anywhere on the reels, you will be awarded 5 free spins. Four suns give you 10 free spins and five suns yield 15 free spins.
During free spins, the sun will be an Expanding Wild. For more information, see above.
What's the RTP?
Regrettably, we don't know the exact RTP of this slot, because Tom Horn Gaming is advertising it as ranging between 94% and 96%. Possibly, it is up to the individual online casino to set the parameters within this range. While a 96% RTP is fairly okay, a 94% RTP is in the lower range of normal for online slots.
Trivia: Record-breaking tornadoes
The deadliest tornado on record is the Daulatpur–Saturia tornado of April 26, 1989, which took at least 1,300 lives in Bangladesh's Manikganj District. Uncertainty still exists about the exact death toll for this tornado. An estimated 12,000 people were injured and roughly 80,000 lost their homes.
The highest wind speeds measured in a tornado is 302 ± 22 mph (486 ± 35 km/h). This amazingly high wind speed, which occurred roughly 100 meters (330 ft) above ground level, was measured momentarily in a small area inside the funnel of the F5 1999 Bridge Creek-Moore tornado in Oklahoma. The measurement was taken by a Doppler on Wheels sitting near the tornado.
The longest-known track for a single tornado is the 151 to 235 mile (243-378 km) track left by the United States Tri-State Tornado of March 18, 1925. This tornado caused 695 deaths as it crossed from southeastern Missouri, through southern Illinois, and into southwestern Indiana. It was a part of a major outbreak of a least 12 significant tornadoes in the region.