Hail is a form of precipitation consisting of balls of ice or irregular lumps of ice. Each such ball or lump is called a hailstone and measures at least 5 millimeters in diameter.
The cloud type responsible for producing hail is the cumulonimbus cloud, i.e. the thundercloud. Hail is thus associated with electrical storms, but that doesn't mean that we always find ourselves in a thunderstorm just because its hailing. Hail can be produced within 2 nautical miles (3.7 km) of the parent storm.
Where?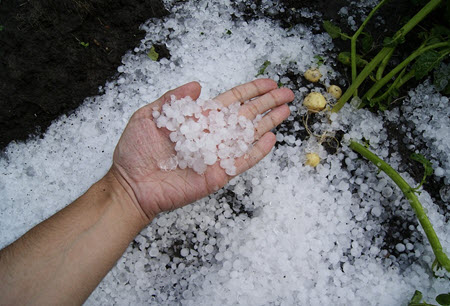 Even though thunderstorms are much more common in the tropics than in the rest of the world, hail is actually more rare in the tropics – especially at lower elevations. Still, the "hailest" place on Earth is in the tropics (but at a high elevation). It is Kericho, which is located in Kenya, close to the equator and at an elevation of 7,200 feet / circa 2195 meters. On average, Kericho experiences hailstorms on 50 days per year. During its record-breaking year, it experienced hailstorms on 132 days of the year.
Hail is more common along mountain ranges, because horizontal winds that hit the mountains side are forced to move upwards, and when this happens to a thundercloud it will intensify the updrafts that are already present within it. There is also less time for formed hailstones to melt before they reach the surface of the Earth.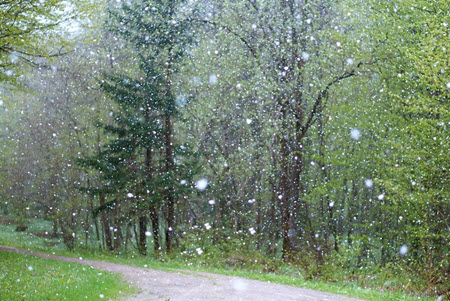 Northern India, which is a very mountainous region, is renowned for its frequent and often severe hailstorms. The mountainous parts of China also experience serious hailstorms comparatively often.
Canada's Hailstorm Alley is located downwind of the Rocky Mountains, in south and central Alberta. Hailstorm Alley runs from High River northward through Calgary, through Red Deer to Lacombe and then westward to Rocky Mountain House. Not only are hailstorms fairly frequent here; they also tend to cause a lot of damage.
In Europe, Croatia, Serbia, southern and western Germany, eastern Benelux, and northern and eastern France are examples of hailstorm hot-spots.
In the United States, the most hail-prone area is where the states Colorado, Nebraska and Wyoming meet. This area is known as the Hail Alley. A majority of all hailstorms here occur in the afternoon and evening. Cheyenne is the hailest city in Hail Alley, with an average of 9-10 hailstorms per year.
Hail records
Record
Info
Largest hailstone diameter
7.9 inches (20 cm)

This hailstone fell in Vivian, South Dakota, USA on 23 July 2010.

Largest hailstone circumference
18.74 inches (47.6 cm)

This hailstone fell in Aurora, Nebraska, USA on 22 June 2003.

Heaviest hailstone
1.02 kg

This hailstone fell in Bangladesh's Gopalganj District on 14 April 1986.
Examples of notable hail events
Date
Location
Info
Circa 9th century
Roopkund,

Uttarakhand,

India

Hundreds of human skeletons have been found in and around Lake Rookund, giving it the nickname Skeletons Lake. Researchers have concluded that the skeletons are the remains of a large group of pilgrims who were killed by a hail storm at this high altitude glacial lake in the 9th century. This explanation is supported not only by investigations of the remains, but also by local legends and songs about the event.
13 April 1360
Outskirts of Chartres,

France

This hailstorm killed approximately one thousand English soldiers. The event, which took place during the Hundred Years War, became known as Black Monday.
13 July 1788
France and

Dutch Republic

Hail caused severe damage to crops, furthering the lack of food that precipitated the French Revolution.
9th of August 1843
Midlands and East Anglia, Central and Southern England
One of the worst hailstorms in England. In some locations, the hailstone layer was 1.5 meters thick. Afterwards, the General Hail Insurance Company was formed.
30 April 1888
Moradabad,

Uttar Pradesh,

Northern India

This hailstorms killed at least 230 people, and over 1600 sheep and goats. In some locations, the layer of hailstones was 60 cm thick. Some of the hailstones were reportedly as large as oranges.
1900 – 2000
Date
Location
Info
1 February 1936
Settlers, Transvaal,

South Africa

This hailstorms killed ten people and several head of cattle. (In the same weather event, at least nine people were killed in flooding.)

Some of the hailstones were as large as coconuts.

1 January 1947
Sydney,Australia
At the time, it was the most severe storm to strike the city since recorded observations began in 1792. The event caused around 1,000 injuries. Many of the most severe injuries were sustained by people celebrating the holiday on the beaches without any shelter nearby.
17 November 1949
Western Pretoria,

South Africa

Hailstones with a circumference up to 23 cm caused widespread destruction, including the breaking of 12,000 large windows in the Iscor plant area and damaging hundreds of cars in the plant.
30 July 1979
Fort Collins,

Colorado,

USA

This hailstorm lasted for 40 minutes and contained hailstones up to grapefruit size. A three-month-old baby was killed as a large hailstone struck her skull while she was being carried by her mother who was running for shelter. This was the only fatality, but 25 people were injured.
12 July 1984
Munich,

Germany

Tennis ball sized hailstones caused the then greatest loss event in the history of the German insurance industry. The storm cost an estimated 166 million Deutchmark.
01/18/85
Brisbane,

Queensland,

Australia

A supercell thunderstorm dropped hailstones over parts of the city, combined with very strong winds. A wind gust of over 180 km/h was recorded at Brisbane Airport.

The 30 minutes of destruction caused A$300 million in damage to vehicles and buildings.

1 November 1985
Pretoria,

South Africa

A major hailstorm struck Pretoria, causing damage for an estimated R400m.
14 April 1986
Gopalganj,

Bangladesh

This hailstorm, where some of the largest hailstones were grapefruit-sized, killed at least 92 people.
19 June 1992
South-Central

Kansas,

USA

Two thunderstorms occurring within 6 hours of each other both showered hailstones across south-central Kansas, including the city of Wichita. Homes were damaged and the hail destroyed nearly all the wheat. Property damage + crop damage was estimated at $600 million.
24th of July 1996
Calgary and

Winnipeg,

Manitoba,

Canada

Orange-sized hailstones caused almost $300 million worth of damage in Calgary and Winnipeg.
14th of April 1999
Sydney,

Australia

20,000 properties and 40,000 vehicles were damaged during the 1990 Sydney Hailstorm, including more than 25 aircraft at Sydney Airport. The estimated total cost was A$1.5 billion.

One person was killed during the event, but by lightning, not by hail.
After the year 2000
Date
Location
Info
29 March 2000
Lake Worth,

Texas,

USA

19-year-old Juan Oseguera died after being hit in the head by a softball-sized hailstone.
18 May 2000
Chicago area,

Illinois,

USA

Widespread damage and around 100,000 homes lost electricity. Roughly 100 flights were canceled and train service was disrupted.
10th of April 2001
The I-70 corridor of Kansas, Missouri and Illinois, USA
With over 2 billion USD in damages, this is one of the costliest hailstorms in US history.
19 July 2002
Henan Province, China
This hailstorm killed 25 people and injured hundreds.
12 July

2004

Edmonton,

Alberta,

Canada

Over 20,000 people had to be evacuated from the West Edmonton Mall as the weight of hail and rain shattered the glass roofs. Edmonton was pummeled with hail for half an hour.
28–29 June 2006
Villingen-Schwenningen and suburbs, Baden-Württemberg, Germany
On 28 and 29 of June, supercell thunderstorms produced hailstorms. The largest hailstones were grapefruit-sized. No fatalities were reported, but the hail caused more than 100 injuries and €150 million damage.
6–7

March

2010

Melbourne,

Australia

Hail and heavy rain left over 120,000 houses without electricity. The roofs collapsed at the Southern Cross station and Docklands Stadium.
22 March 2010
Perth,

Australia

A hailstorm left over 150,000 houses and many traffic lights without electricity. The storm also caused a landslip at King's Park.
23 July 2010
Vivian,

South Dakota,

USA

It was during this hailstorm that the record-breaking 20 cm in diameter hailstone fell, weighing 0.88 kg. It was larger than a bowling ball.
27–28

July

2013

Reutlingen and Pfortzheim, Baden-Württemberg; Wolfsburg and Hanover, Lower Saxony,

Germany

During two days, a series of hailstorms caused severe damage in both northern and southern Germany.

8 July

2014

Sofia,

Bulgaria

This hailstorm caused 100 million levs in damage claims.
27 November 2014
Brisbane,

Queensland,

Australia

The 2014 Brisbane hailstorm injured around 40 people. The storm caused an estimated $1.1 billion worth of damage.
20th of June 2016
Pančevo,

Belgrade,

Serbia

A hailstorm with hailstones up to softball size.
8 May 2017
Denver,

Colorado,

USA

No fatalities, but widespread destruction of property. Total damage estimated at 2.3 billion USD. The Colorado Mills Mall could no re-open again until the end of the year.
9th of July 2017
Minneapolis, Minnesota, USA
A storm system lasting over a week created severe hail and high wind damage from Minnesota to Texas to Virginia to New York. The most affected area was Minneapolis.
Hail vs. ice pellets
Just like hailstones, ice pellets (known as sleet in the USA) is perceptional in the form of ice balls. Ice pellets are smaller than hailstones and are associated with winter weather rather than with thunderclouds.