Kona storms are a type of seasonal cyclones in the Hawaiian Islands. In an average year, Hawaii will recieve two or three kona storms, and one storm can affect the region for a week or even more. Kona storms are associated with cyclones with a central pressure below 1,000 hectopasclas (almost 30 inHg).
Kona storms are usually: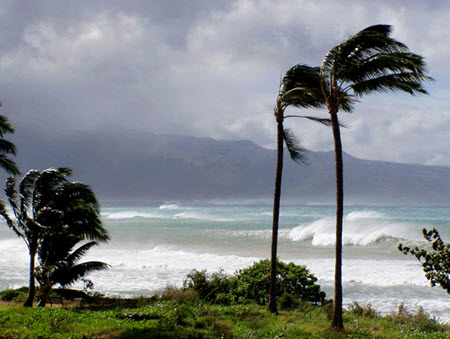 Cold core cyclones
Formed in the winter
Formed from winds coming from the west
Since they are cold core cyclones, they are not considered tropical or subtropical. Still, kona storms tend to be similar to subtropical cyclones in the way they lose their associated weather fronts with time.In December 2010, a kona storm became fully subtropical and developed into the Tropical Storm Omeka.
Hazards
Phenomena associated with kona storms:
Heavy rain
Thunderstorms
Hailstorms
High winds. As the kona winds passes over mountain summits or trough mountain gaps, wind gusts over 165 km/h (100 mph) can occur.
Large surfs and swells as a result of the winds
Waterspouts
Flash floods, which in turn can result in landslides
Snow at high elevations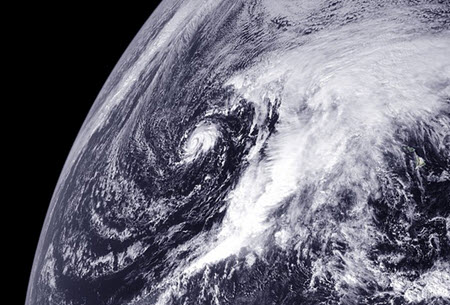 Compared to an average cold front storm in Hawaii, a kona storm brings more pronounced rainfall and the islands can experience steady rains lasting for several days, although long-lasting kona storms will often be interrupted once in a while by a short period of lighter rain or even some rainfree time. The rains during a kona storm are usually at their most intense from south to east of the storm, and in front of the center of the storm.
One example of a problematic kona storm in recent years is the one that occured in December 2008, while President-elect Barack Obama was visiting Oahu, and lightning strikes from the storm brought the power grid of the island to a complete black out.
When?
The typical season for kona storms is between October and April.
How often?
As mentioned above, an average year will bring two or three kona storms. It is unusual for a year to have no kona storms, but it does occur. Also, in some years, there will be four or five kona storms.
Why is it called kona?
The kona storms are so called because they come from the kona-direction. In the Hawaiian language, kona denotes the west (to southwest) side of an island in Hawaii, which is also the leeward and dry side. The opposite is ko´olau.
You can see the term kona in names such as North Kona District (Kona 'Akau) and South Kona District (Kona Hema) on the Big Island.
The kona storm of 8-11 January 1980
In the more recent 50 years, one of the most powerful kona storms was the one that plagued Hawaii between the 8th and 11th of January in 1980. The chiefly responsible low pressure had a barometric pressure of just 975mb as it passed north of the state on January 8. This is one of the lowest pressures ever recorded for an extratropical storm in Hawaiian waters.
This kona storm drenched Hawaii in very heavy rainfall, especially Big Island and Maui where 20+ inches were reported from several locations.
Out over the open sea, wind speeds averaged 40-50 mph. Over land however, the recorded wind speeds varied dramatically depending on local geographical features. Some areas experienced gusts exceeding 100 mph, including Lahaina Roads on Maui where 106 mph was recorded. On mountain summits on Big Island and Maui, winds exceeding over 110 mph were recorded.
High surf caused serious damage, especially along Big Island's kona coast where the towns Kilua-Kona and Puako are located.
All airports in the state were shut down.